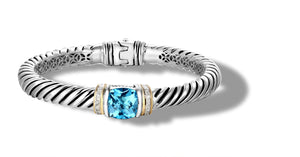 This Classic Cable Ruta Collection Bracelet has a luminous central vintage cushion cut Blue Topaz dominates the constellation of brilliant diamonds. From the pure pastel blue of an Alpine glacier…to the glow of the mid-summer sky…to the aquatic hue of the deepest ocean, refreshing Blue Topaz brings a breath of fresh air to this timeless collection. The ancients prized Topaz as a stone of divine majesty. It was believed to dispel enchantments, detect poisons – even render the wearer invisible at will.

 PRODUCT DETAILS 
Metals: 14K Yellow Gold & Sterling Silver
Diamonds: 0.1 total carat weight
Blue Topaz Vintage Cushion Cut [10.00 x 10.00] mm
Gir Collection trademark bracelets are designed in mind to reflect comfort, elegance, and safety. These bracelets are oval, center hinged, and flat inside with unique motifs. These features easily allow our customers to wear and remove the bracelets to prevent rolling while maintaining the exquisite design and live colors of the precious and semi-precious upward-facing stones.